Multiplication of Vectors
Multiplication of Vectors
GCSE(F), GCSE(H),
Vectors can be multiplied.
a + a + a = 3a
The multiplier of the vector is called a scalar. A scalar can take any numeric value, including negative values.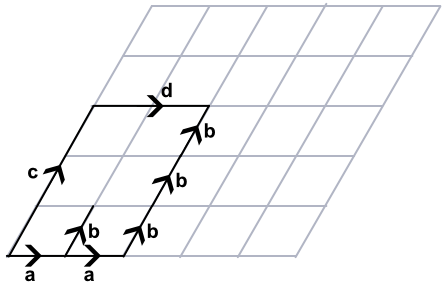 In the example above, c = 3b. Similarly, a = `frac(1)(2)`d.
Examples
1. State the resultant vector `vec(AB)` in terms of a and b.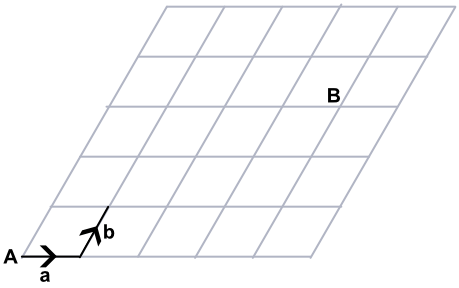 Answer: `4bb(a) + 3bb(b)`

Four instances of a along; and three instances of b up.

2. What is the magnitude of `2bb(a) + 3bb(b)`, if `bb(a)=((3),(2))` and `bb(b)=((2),(-3))`?

Answer: 13

`2bb(a) + 3bb(b) = 2((3),(2)) + 3((2),(-3)) = ((6),(4)) + ((6),(-9)) = ((12),(-5))`
The magnitude of the vector = `sqrt(12^2 + -5^2)` = 13

<! Ad ---------------------------------------------------------------------------------->