Perpendicular Lines
Perpendicular Lines
GCSE(H),
Perpendicular lines exist at right angles to each other.
Two perpendicular lines are shown on the graph below. The line of one graph is given by y = 2x + 2, and the other by y = -`frac(1)(2)`x + 3.
Lines are perpendicular if the gradients of the two lines multiplied together = -1.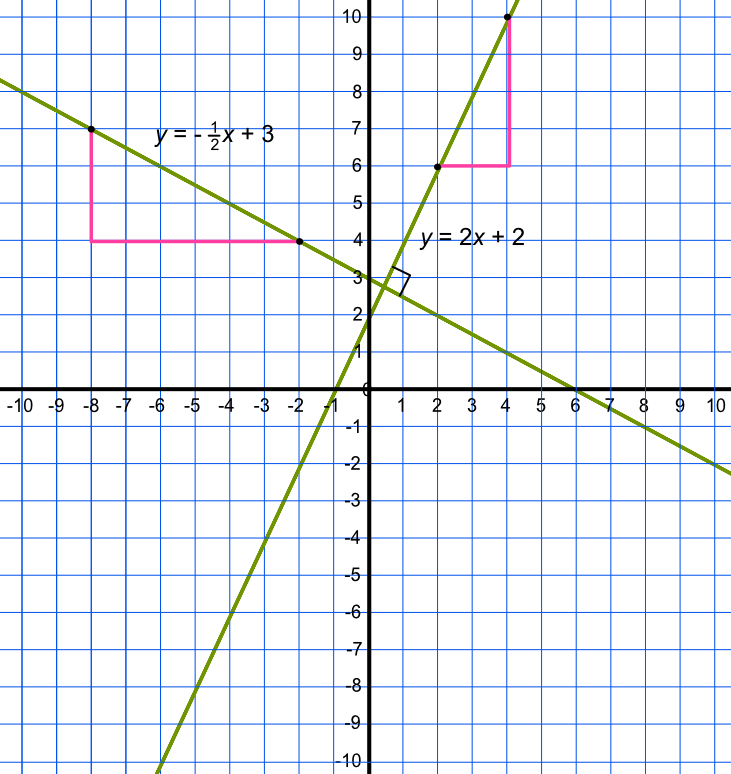 Examples
1. What is the equation of the line that is perpendicular to y = 3x -3 that also passes through (0, 5)?

Answer: y = -`frac(1)(3)`x + 5

The gradient of the original line is 3. The gradient of the perpendicular line = - `frac(1)(3)` (reciprocal of the original gradient x -1).

The intercept of the line is given by the fact that it passes through (0, 5).

2. Find the equation of the line perpendicular to y = `frac(1)(2)`x - 3 that passes through (4, 4).

Answer: y = -2x + 12

The gradient of the second line is given by - 1 / `frac(1)(2)` = -2.

The lines passes through the point (4, 4): 4 = -2 x 4 + c, where c is the intercept = 12.

The equation of the line is y = -2x + 12.

<! Ad ---------------------------------------------------------------------------------->